How Does Penetrating Fluid Work?
Today, people have become aware of the need for conservation of our natural resources. However, there is still a need for gasoline, oil and other products to keep society moving. Good running equipment is vital in this process.
Established in 1957, we at Nitro 9 Lubricants, DBA Hi-Tech Oil Blends, Inc., became aware of the energy crisis and, as a result, have developed penetrating oils that extend the life of equipment two to three times longer than expected. Our steady customers include oil companies that have purchased our products for many years to keep their equipment running smoothly.
THE FINAL WORD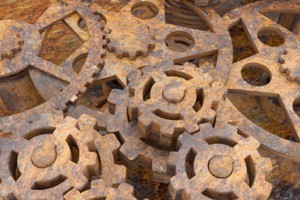 Our ZP-1061 is known as "The Final Word" Penetrating Fluid. This penetrating fluid is excellent for use in Automotive Machine Shops, Computers, Firearms, Fishing, Mining Construction, Air Conditioners, Plumbing, Agriculture, Power Generators , Automobiles or any equipment that becomes frozen or rusts. This makes it practical for industry, as well as personal, use.
Liquid and light blue in color, this product acts by penetrating the subsurface of the metal and removing rust, varnish or gum. It will also unlock any gears or other equipment that is frozen. It then leaves a residual film that provides a lubricant to protect against further oxidation or rust.
SAVING EQUIPMENT, ENERGY AND MONEY
Downtime and/or equipment replacement in any business are costly expenses. The cost of labor and parts can add up quickly when machinery is sitting idle. This can be avoided when ZP-1061 Penetrating Fluid is applied to frozen or rusty equipment. We have documented the life expectancy of equipment, which has used our penetrating fluid, from two to three times that of those untreated.
Extending the life of industrial equipment is vital in today's energy saving world. When equipment is down there is not only the costs of replacement or repair but the loss of revenue as well as. When repairing a diesel engine can cost as much as $150,000, it makes sense to use every means possible to keep it running as long as possible. Our products have proven to cut replacement costs in half and to save as much as 25.8% in energy costs.
CIVILIAN USE
In addition to industrial use, XP-1061 is excellent for civilian use. This is an answer to problems, which often occur in the home. This includes things such as a rusty gun barrel, a frozen fishing reel, rusty HVAC, frozen plumbing, farm equipment that has frozen gears or has rust that needs to be removed. The list is endless. Nitro 9 Lubricants are an excellent solution to the problem.
Our company is proud to contribute to the "save energy" fight by producing penetrating oil, which helps extend the life of all types of industry and individual equipment. We are dedicated to slowing the filling of landfills, a problem that continues to harass humankind.